JIFF's Activities
JIFF was established to fulfill two key missions: to support the 7 disability football associations and to carry out activities for the realization of an inclusive society.
Support for 7 Disability Football Associations
We support the 7 disability football associations in order to improve their business infrastructure, sport performance and promotion activities for each type of football.
Common Uniform for Japan National disability Football Teams
In 2017, we standardised the uniforms of Japan national disability football teams in the 13 categories organised by the 7 disability football associations, which had previously been uniquely designed each other.
At this time, the uniform was designed as a common uniform of the "disability football" national teams. Those of the other football national teams such as "SAMURAI BLUE (Men's A team)" and "Nadeshiko Japan (Women's A team)" organised by JFA was a different design.
However, at the 2020 Tokyo Olympic and Paralympic Games, in the three "football" categories (Men's U-24, women's A team and Men's national blind football team), all of "Japan national players" wore common uniforms for the first time.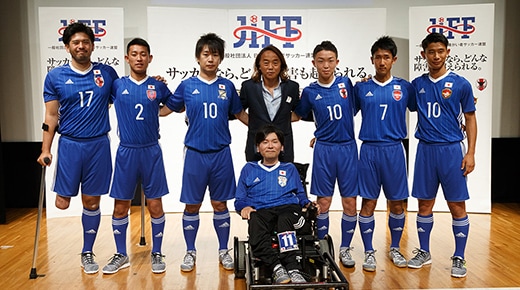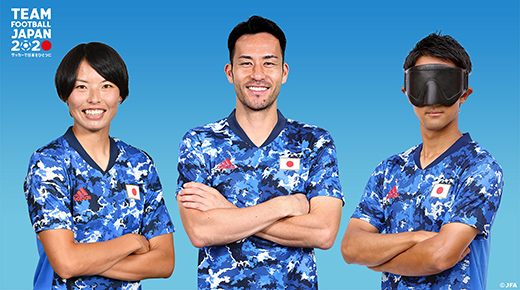 Joint Secretariat for Disability Football – Shared Office and Personnel Support
As some of the disability football associations do not have sufficient business infrastructure, even a dedicated office, JIFF provides a shared office with them and personnel support. JIFF also primarily response to inquiries on disability football and is responsible for gathering and organising information on the sport in order to improve a whole business infrastructure of the disability football community in Japan.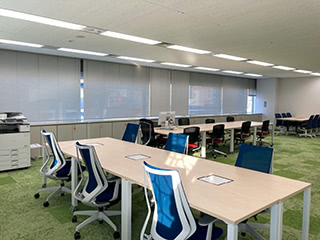 Public Relations of Disability Football
JIFF conducts public relations campaigns about 7 types of disability football on behalf of each disability football association. In one example, we have published a handbook about disability football in collaboration with JFA. We also provide a database with which disability football clubs in all parts of Japan are registered so that players can find a team that they can join.
Activities for the Realization of an Inclusive Society
We are working to create an environment where anyone can enjoy football anytime, anywhere, and to dissolve social barriers between people with and without disabilities.
Creating an inclusive environment through efforts of Inclusive Football Festa
Inclusive football festa is a series of the disability football events where people with and without disabilities play together. With supports and collaborations among the prefectural football associations, the clubs of J-League, F-League and WE League and disability football teams, we hold the events throughout Japan.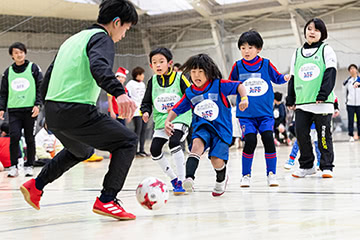 Training Courses for Coaching of Disability Football and Registration System
We encourage the JFA official coaches to take the training courses of coaching of disability football provided by JFA. We also manage the JIFF official coach registration system that is designed to work as a bridge between them and the disability football community. Since 2019, we have been running the series of the "FutbolNet" seminars jointly with the Barça Foundation established by FC Barcelona of the Spanish La Liga with the purpose to teach the participants its methodology to help create more inclusive sport environment for persons with disabilities.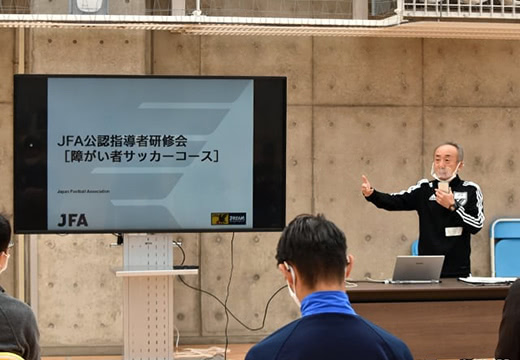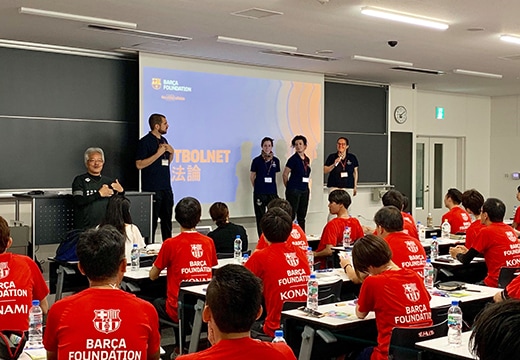 Partnership Conference for Building a Network of Disability Football in the 9 Regions of Japan
Commissioned by the Japan Sports Agency since 2019, we are running partnership conferences in the 9 major regions of Japan. JFA, the 7 disability football associations, the prefectural football associations, J-League clubs and local disability football teams participate in the network of disability football.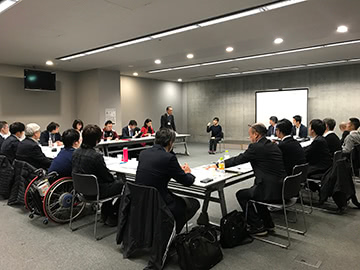 Financial Supports for Sign Language Interpretation
JIFF provides financial supports for persons with hearing impairments to access sign language interpretation service so that they can easily take training courses of coaching/refereeing of association football and futsal.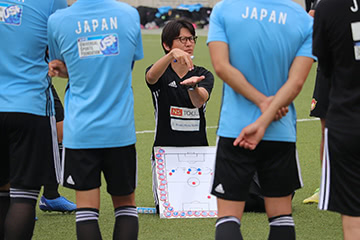 Education Programs for Companies and Schools
Based on years of experience in disability football, JIFF provides education programmes from which students in elementary/junior high schools can obtain knowledge on persons with disabilities and how to support them.
For companies, on the other hand, we provide training programmes about business communication skills and a team building method to work with persons with disabilities.